For over 150 years "Jenny's Cottage" was a popular destination for visitors to The Chevin from near and far, being well known for its refreshments and hospitality. It was situated here, on the Chevin Ridge at Surprise View and was also known as Chevin Top House or Farm, Jenny Hill Farm or Beacon House. The building was demolished in 1976, but a small part of the foundations can still be seen.
A Beacon Keeper's Cottage
The name "Beacon House" reflects the origins of the building. Otley Chevin was designated as one of a chain of beacons established as a nationwide communication system around the end of the eighteenth century when invasion by the French was threatened. The nearby "Beacon Hill" is probably where the original beacons were sited and would have been clearly visible to the next beacon sites in the chain i.e. Beamsley, Almscliffe Crag and Scarcroft Moor. A small shelter for the beacon keeper was built and in 1799 the beacon keeper (said to be a John Tillotson) employed three men to help make the beacon ready by collecting timber, tar and other combustibles.
At the time of the Enclosure Act in Otley (1783) the land where the Beacon Keeper's shelter was built was given to Edmund Barker (who came from a well-known Otley family and is buried in Otley Parish Church), whose family originally came from Otley. Remarkably, it stayed in the ownership of the Barker's descendants until the 1970's. Throughout this time it was occupied by a succession of tenant farmers, who gradually extended and improved the buildings.
1820s
The earliest known tenants of "Chevin Top Farm" were Joseph and Jane Myers. Joseph was a "hind" or agricultural labourer and would have been employed to farm the land around where the farm house stood. His wife, Jane, was commonly known as "Jenny", and the building became known locally as "Jenny's Cottage" or "Jenny Hill Farm".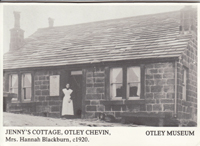 A former Otley resident, John McLandesborough, published his reminiscences of his boyhood in Otley in the 1820's and 1830's, and gives us a first hand account of Jenny:
"Beacon House, in my younger days, was occupied by a hind and his wife named Myers, in the service of the late John Hartley, senr. of Otley Corn Mill. His wife Jenny Myers was known to all residents and to many visitors to Otley, few of whom had not derived pleasure from her kindness.
She would lend her china and find boiling water for those requiring tea and who were provided with the needful requisites. In cases of picnics and parties visiting the Chevin, she would, if possible, allow them to have tea and dance in the barn attached to Beacon House"
It seems that the hospitality of Jenny to the many visitors to the Chevin top, formed the foundations of the later very popular and successful tea rooms.
Miller Lane
After the death of Joseph Myers in the 1850's, the farm was let to David and Elizabeth Miller who stayed there about ten years. At this time the building was still quite small, comprising just two rooms and an outbuilding. The nearby "Miller Lane", which was the main cart track to the farm, is said to have taken its name from them
The Golden Age of Tourism
In the late 1870's Thomas Veale moved to Chevin Top Farm with his wife and family. He was a tenant farmer, but, with the growing numbers of tourists visiting the area due to the improved transport links to Otley from surrounding towns and cities, he saw the financial benefits of establishing more permanent "refreshment rooms". He made extensive alterations to the building, adding tea rooms on the east side, a storeroom and cafe to the rear or south side, and bedrooms. He built up a successful business, and stayed for over twenty years.
The Blackburn Family
Another well known family who lived at Chevin Top Farm for many years were the Blackburns. Senior Blackburn was a butcher in Otley. With help from various members of his family, he farmed and ran the tea room at Chevin Top for about twenty seven years, adding to the buildings, and even building "public conveniences" in 1934. After his death in the 1930's, the farm and refreshment rooms were taken over by his son and daughter in law, John and Edith, and later, in 1946, by John's daughter, Mary, and her husband Lawrence Jackson who lived at "Beacon House Farm" until 1959. A very satisfied customer of the Blackburns tells us:
"An excellent tea is provided for the modest outlay of 8d……or with ham and eggs 1s. 6d. Mr Blackburn is skilled in the art of catering and he is accustomed to providing for large parties"
Jenny's Cottage Becomes a Ruin
It seems that in the late 1950s the Jacksons had noticed a fall in trade that may have been indirectly due to increased motor car use. In the Blackburn's days local folk used to make a holiday out of a visit and it was not uncommon to see hundreds pinicking on the surrounding rocks and hillside. But more visitors started to arrive from further afield using cars and their needs seemed to be fewer.
After the last tenants (the Jacksons) left Jenny's Cottage the building gradually fell into a state of disrepair and, much to the sadness of local residents, was demolished in 1976.
In 1972, a former Otley resident, Sam Chippendale, had bought Jenny's Cottage and the surrounding land on Beacon Hill. In December 1976 the Sam Chippendale Foundation submitted an unsuccessful planning application to erect a new detached dwelling to where Jenny's Cottage once stood. In 1977 Leeds City Council purchased the land where you are now standing (along with land further down The Chevin around The White House) to become part of Chevin Forest Park.
Barbara Winfield, Chris Tomkins and Richard Marsh have created a photobook on the history of Jenny's Cottage which is available to view in two low-res .pdf files here and here.  The physical book is available to view in Otley Library if you'd like to see them in full resolution without watermarks.
Do you have any interesting photos of Jenny's Cottage or other information that is not included above? If so please get in touch.