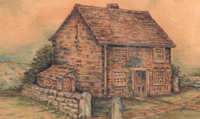 Drawing of Keeper's Cottage by Reg Rawlinson
Under the Otley Enclosure Act of 1783 what was formerly "common" land was divided up amongst local landowners. The Fawkes family, who lived at Farnley Hall and who also owned Caley Hall, were given most of what is now known as the Danefield side of the Chevin Forest Park. By 1820 the land to the south of Caley Hall had been surrounded by large walls and named Caley Deer Park. The Park was stocked with red and fallow deer, zebras, goats, wild boar and axis deer.
The following  advertisement  appeared in the Leeds Mercury on December 11th 1819:
"Wanted immediately, as PARK-KEEPER, a Middle-aged sober steady MAN, who perfectly understands the Care and Management of Deer. A married man, without Family would be preferred, as he will have a House in the Park.
No one need apply whose Character and Qualifications in every Respect will not bear the strictest Inquiry.
Apply to Mr. John Raistrick, Caley Hall, near Otley, if by letter Post-paid."
This leads us to believe that the "Keeper's Cottage" was most likely built some time in 1819 and first occupied in 1820. The site was probably chosen because of its proximity to a spring and the fact that it afforded a good vision over the area of the park. It was a small building with a central chimney and only three rooms. Water would have been fetched from the nearby spring and lighting provided by candles or oil lamps. Footpaths and an accommodation road led from the cottage to enable the keeper to access forage for the deer, particularly in winter. The only illustration of the cottage that is known to exist is a painting done by the late Reginald Rawling, former Head Forester of Chevin Forest Park.
A succession of gamekeepers and farm labourers working for the Fawkes family lived in the cottage:
1851 – Joseph West, Farmer's Labourer
1861 – Joseph Smith, Gamekeeper
1871 – Jacob King, Shoemaker
1881 – Joseph Taylor, Gamekeeper
1885 – 1892 approx. John Grant, Gamekeeper
1896 – 1903 approx. Thomas Wildman, Gamekeeper
1905 – 1908 approx. Arthur Wood, Caley Hall Estate worker
1910 – Edward Sollitt, Gamekeeper
1911 – John William Scott, Farmer's labourer
1913/14 – H. Hall
A local artist, who worked at Caley Hall at one time, describes how she drew a sketch of Keeper's Cottage from a point above the kitchen garden at Caley Hall:
" I climbed a bit higher and sketched a small cottage with one chimney, perched on a rock farther up. This, on my return, I propped against the mirror on my dressing table and when Penny came to bed, I heard her claim excitedly, 'The Keeper's Cottage'!"
(From the autobiography  "The Cottage Window" by Marie B. Pitts, who later lived at Lawn Cottage, just below the White House)
In early 1914 the tenant of the cottage (H. Hall) was asked to leave and the cottage was boarded up. It is probable that no-one lived there after this date.  The building was eventually demolished in 1925, the stone being transported down to Caley Hall by horse and cart to be used to build a worker's cottage there. Traces of the foundations can still be seen above Caley Crags.
Do you know of anyone else who lived at the Keeper's Cottage? Please get in touch if you have any information and/or photographs.